The Gourmet Restaurant Photography Experience 
Chef Azarpoor is heavily inspired by the influences of Persia, Turkey, Syria and Middle-eastern countries. His dish of smoked Italian eggplant, pomegranate, Arëm-made curd with roasted walnut and egg yolk is nothing short of sublime; the filo pastry, lamb shoulder, apple pomade with butter powder is a culinary work of art. It was amazing to shoot some of the best that Montreal fusion food has to offer.
Arëm Restaurant has an equally impressive lineup of cocktails. Their variety of drinks is truly unique, and each has an incredible marriage of surprising flavors. As you see in the photos of their cocktails, their refreshing gin, honeydew and cucumber cocktail has a totally different feel than their exotic martini with a spicy aroma of cardamom.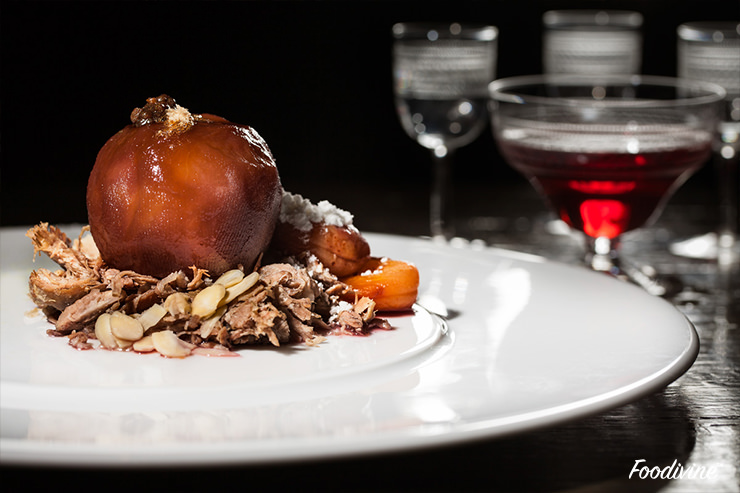 Reza's Personal Touch 
Azarpoor earned his degree from Mimar Sinan Fine Arts University in Istanbul and is formally trained in architecture.  You can see how his background influences the space as he designed the restaurant himself – all dining room objects, lighting and art, have been imported from Turkey – and your eye can't miss the elegant central chandelier. Restaurant photography needs to capture the feel of the environment, but it's also representing the style and creating a visual connection with the viewer.
Fixing the Mood-Lighting 
The restaurant itself is a very low-lit and ambient place, which makes the interior restaurant photography more challenging. In order to keep the light low and true to life, we used flashes as spot lights on the tables and then blended the photos in post-production. These little tactics can be life-savers when trying to create a mood-infused photo, and every person interested in restaurant photography should learn how to be flexible in any lighting situation.